Watch the live


1.
In the "Main" ,. Click "Live" icon to enter live view interface

2.
Double click the camera in the devices list. CMS5 will start receiving the live.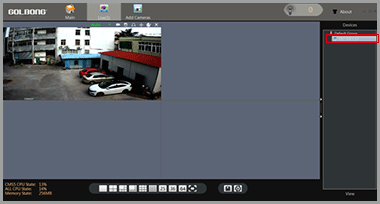 NOTE: Double click the name again can close the video.
Digital ZOOM


1.
Right click the video you want to operate digital zoom on the screen, select "Digital Zoom"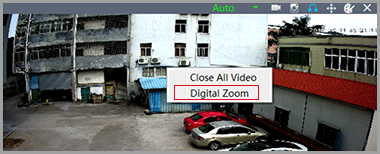 2.
Hold the left-button on mouse to selected area in red square. As shown below: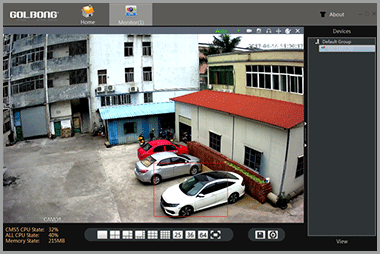 3.
Release the mouse to zoom in.
4.
Right click mouse again, uncheck "digital zoom" to close the zoom operation.
Activate the audio ( camera supports audio and connect to the audio pick-up only)

1.
In the live, Click headset icon" " on the top right corner to hear the voice from the IP camera.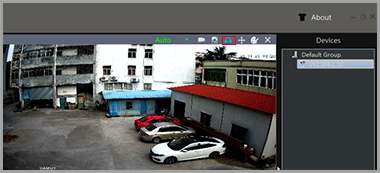 Important: You need to enable the audio in the "encode" in order to record the footage with audio.
PTZ control (camera with motorized zoom lens only)


1.
In the live, click the joystick icon on the top right window, a joystick panel appear.
2.
Click the panel button, you can pan/tilt/zoom with camera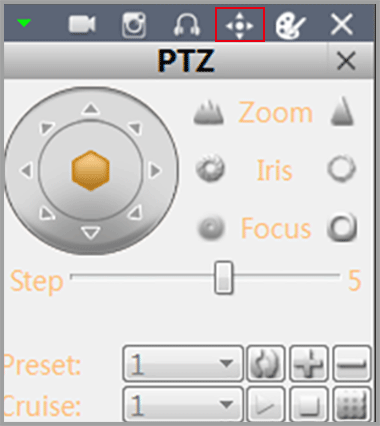 Set a new password for "admin"


1.
In the "Main" , click "Device Config". Enter "Tool Manager" on the right screen, A new screen appear.

2.
In the top left menu, select the camera for which you want to change the password.
3.
Click "User Manager" on the top screen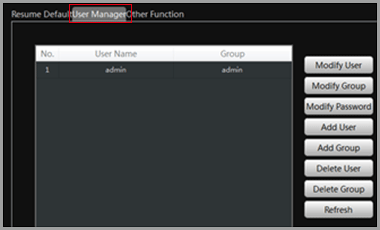 4.
Click "Modify Password". A new screen pop up. Enter the old password and your new password. Click "OK" to save.
Note: The default password is blank