GOLBONG Multi-Sensor IP Camera with Surrounding Coverage
If we look around the biological characteristics in our nature, we can find everything has more than one eye. GOLBONG multi-camera somehow has copied this feature. With multi-sensor, the camera can reach 2 times or 4 times coverage wider than conventional camera. Unlike fisheye solution, GOLBONG multi-sensor camera produces image with high pixel density which is value for the forensic investigation. It also can replace several conventional or pan-tilt-zoom cameras.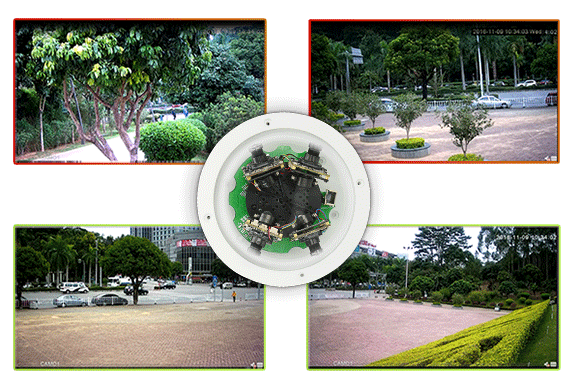 Multi-sensors, multi configurable shooting direction
The user can configure GOLBONG multi-sensor camera to generate 180, 270, 360 panoramic view. Combining with telescope lens, the camera can see both far and near area on the same direction.
Enhance situational awareness
The operators can be aware of what is happening around with surrounding video producing by GOLBONG multi-sensor camera. It delivers great ROI, allow users to investigate the incident, determine the liability, even avoid the legal case.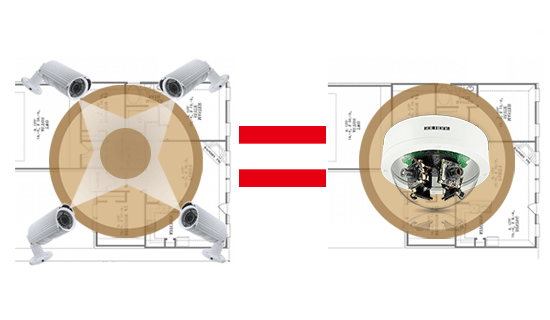 Easy installation
The GOLBONG multi-sensor camera can operate with conventional standalone NVR. The embedded Linux infrastructure from camera to NVR make the system simple and reliable. The user can have 4 camera setup with one cable and one installation, even upgrade from an old analog camera to a multi-sensor camera by reusing the coax cable.
True day and night
The GOLBONG multi-sensor camera has true day and night functionality. The camera will automatically switch to black and white to boost up the sensitivity and see the infrared at night. The user also can add an external IR lamp or select the color night vision model which is designed for extremely low light condition monitoring.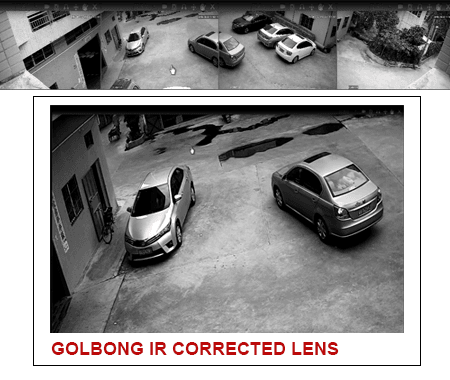 High Frame Rate
The GOLBONG multi sensor camera can deliver high frame rate up to 30fps in full resolution. 4 independent DSP (digital video process) provide strong power to process the video and detect motion on the scene.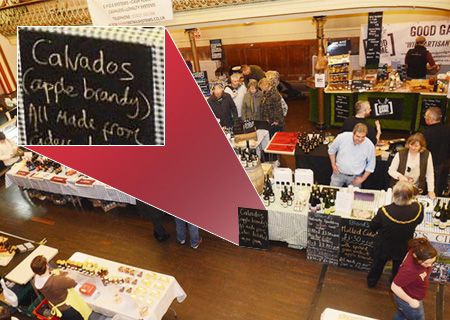 Super wide dynamic.
The optional WDR model can handle the situation with strong light contrast, such as entrance/exit. The camera will produce two images and combining into one which can see both brightness part and darkness part of the scene.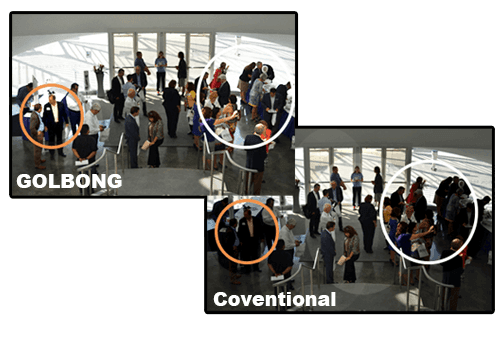 Next generate compression.
The h.265 compression technology can saves 40% of the storage space comparing with H.264. The user can add GOLBONG multi-sensor camera to existed network infrastructure without generate heavy data traffic. The demand of increasing bandwidths will be cancel by the advanced compression.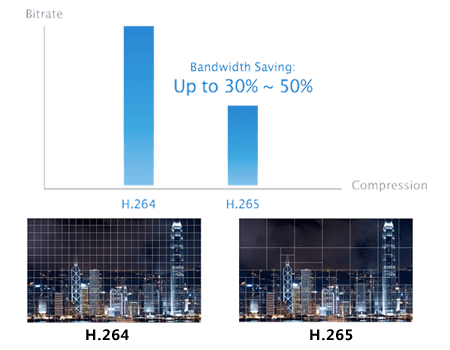 Waterproof and vandal proof
The users can deploy GOLBONG multi-sensor in the harsh environment outside perimeter working with heavy wind, rain, and snow.